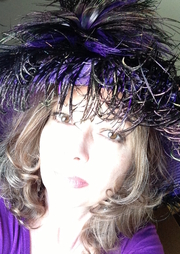 THE HISTORY OF EGGCUP

Sometimes a wish really does become reality…
What happens when someone with an artistic temperament, who loves to work with her hands, is faced with the onslaught of technology? While computers were gaining ground and making most people's lives easier, graphic artist
Constance "Conney" Borda realized that her creativity was no longer needed in the rapidly changing marketplace. Design became a computer-driven business, and Conney couldn't see spending the rest of her life pointing and clicking to create
art.

It started with an idea.


Conney liked hats. She liked wearing them, so she began designing for herself. When friends began admiring her handwork, they asked her to make hats for them. Conney suddenly had a moment of clarity – and a glimpse into her future.

In 1996, Conney's vision of owning and operating a small millinery studio became a reality. Eggcup Designs offers original styles of fine ladies' hats and serves customers from coast to coast. You can choose a different hat for every season and every occasion.

Eggcup creates caps, cloches, fedoras and berets suitable for all seasons. For those special occasions, choose a cocktail hat - a small brimless jewel that is perfect for the close quarters of a cocktail party.
And the next time you're off to the races, choose one of our exotic Kentucky Derby hats.

You'll see that there are more eyes on you than there are on the race!







THE HAT MAKING PROCESS

Through a labor-intensive process, milliners transform the raw woven straw into your fashion statement.

Hand Blocked
Hand blocking is the process of steaming and stretching hat material over a wooden shape called a hat block. In a few hours, the material takes the shape of the block.
This is a more delicate process than metal pressing or stamping, which is used for hats that are mass-produced.
Hand blocking won't crush the nap of the material or dull the vibrancy of its
color.
Straw hats that are machine blocked are difficult to size and are stiffer than hand blocked hats. They will also crack easily.

Hat linnings
A quality hat should be lined. The lining creates a comfort barrier between your head and the hat. Additionally, with a lined hat, a lady's hair won't get matted down or snagged in straw. We also hand block the lining before sewing it into the hat to ensure a perfect fit.

Trims are sewn on by hand, not merely hot-glued into place. As a result, the trim can be taken off and a new one applied whenever you desire. Removing a hot-glued trim could ruin a mass produced hat.


ABOUT OUR HATS

Traditional millinery is time consuming, but the end result is a lasting, crafted accessory that you can wear for years. Our beautiful, handcrafted ladies' hats are made the old fashioned way: each is hand blocked, lined and trimmed from the finest quality materials available. We specialize in eye-catching designs for ladies who consider the wearing of a hat to be a serious matter.
Eggcup Designs makes hats for ladies who want the best, and who know the difference.

Every woman looks magnificent in the right hat. To help you choose which style(s) may best balance your face shape*, refer to the guidelines below:


OVAL: Lucky you! You can wear any style you choose. Pay particular attention to hats with streamlined shapes that are
worn forward. In addition, square or round crowns, or brims swept up on the side(s) or back will complement you.

ROUND: Big hats are a good style for you. Try hats with wide crowns, such as a rounded mad hatter, a wide sailor brim or
a wide Breton style (upturned brim). Berets, cloches and pillbox hats worn off your face can also be good choices.
Asymmetrical brims will lessen the roundness of your face. Round faces are good hat faces and look good in many styles.

LONG: Choose hats with a shallow crown or a mad hatter style with a sailor brim. Upturned brims pulled low will add width.

SQUARE: Try fedora styles, peek-a-boo brims or a sailor brims. Also, consider a beret style.

WIDE: Off the face styles, Bretons (upturned brims) or pillboxes worn back will add "lift".

HEART: Experiment with asymmetrical designs, square or round crowns tilted to one side, profile hats and brims with soft curves.


Remember, these are only guidelines! If you like a particular hat style, wear it with confidence and be happy.